'Super-fresh' ingredients are skin care's latest selling point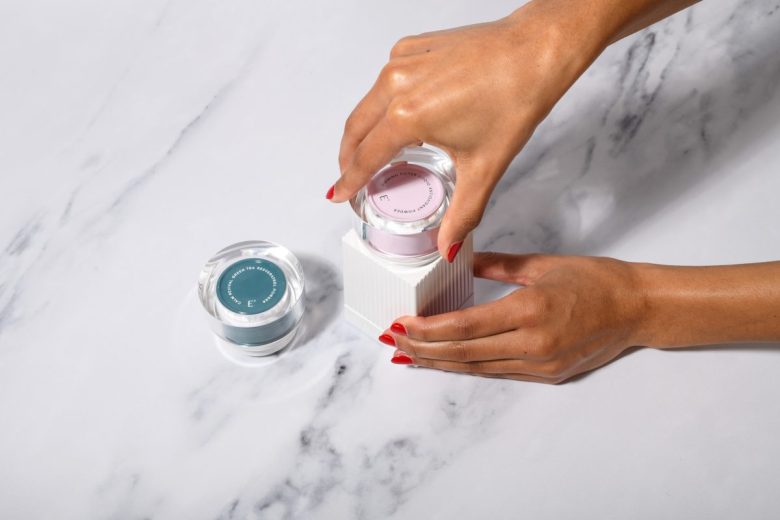 Not long ago, inclusion of a unique ingredient in a product served as a signal to consumers that a brand was bringing something new to the table. Think: an Australian plum with the highest concentration of vitamin C or retinol formulated to be the least irritating. To a new school of brands, however, the ingredient itself is only half the story. After all
 And, most interestingly, they're doing so in drastically different ways.
Exponent, a new skin-care brand that launched in April, engineered a "first-of-its-kind precision-dosed, refillable package" that blends an active powder of a typically highly unstable ingredient, such as 10% L-ascorbic acid, into a serum base. The user blends the two on the spot for a freshly-mixed serum.
"The entire premise of our line is to deliver effective skin care in every dose… Freshness is the means to the end. Making it fresh [at] the moment allows us to deliver the optimal concentration you need to see real benefits from your skin care," said founder Liz Whitman.
In researching the premise for Exponent, Whitman first purchased the 20 top-selling clinical brands across beauty retailers that were made with vitamin C, retinol and CoQ10, and sent them to an independent lab. "The headline" for the findings, she said, was that, from day 0 to day 60, "the products had lost about 40% of their active ingredient in a mere eight weeks."
Dr. Robb Akridge, the inventor of the Clarisonic, introduced his second prestige beauty device, the Opulus, in 2020. The Opulus is an "appliance," he said. The device itself not only blends product, but it also serves as a "forever bottle." Each Opulus is sold on the brand's own website, as well as at Saks Fifth Avenue and Neiman Marcus, with a month's supply of the brand's retinol for $395.
Dr. Akridge's original inspiration for Opulus came from the food world. "I was in a very expensive chocolate shop. I was looking around, and each one is like a piece of art, with a different texture, different taste and a different aroma. And I thought, why can't skincare be like this?" Akridge lamented that the existing beauty system takes months, where a contract manufacturer develops a product, gets it into packaging and ships it to the actual manufacturer, which perhaps ships it to a warehouse. "There's this long chain of distribution, and by the time it actually gets into the consumer's hands, it can be six months, a year or longer before they pick that bottle up off the shelf and buy it."
Like Whitman, Akridge sought an alternative. "Why can't we [give customers] freshly activated beauty, instead of this three-month supply that they're constantly going into, while their skin is changing every day?"
Monday Born, an influencer-founded brand created by Teni Panosian, approaches freshness in yet another way. It did not reinvent the wheel when it comes to the delivery of its products; they come in your standard containers. But products are only available in pre-scheduled drops, necessitating that its customers pre-plan their shopping.
When I spoke to Panosian and HeeKyeong Seo, co-founder at Beaubble, in May, no Monday Born products were yet available for purchase, although some would be in 48 hours. Panosian said that products, like the brand's soothing essence, that are used day in and day out are manufactured and sold more frequently than the brand's lactic acid-based serum, which does not need to be used daily. Of course, the business model also has benefits for the environment, though Panosian acknowledged that "no brand is sustainable and that [sustainability] is a matter of decreasing your impact."
Like Opulus, LightWater Skin Nutrition took its inspiration from food. It launched on May 23 with just two products, a day cream and a night cream, each available in single-use sachets. "There are no preservatives, there's no fragrance, there are no irritants — and the reason they're not in there is that this is fresh. The whole idea of conventional skin products is that they have to sit on the shelf for years, which means you have to put preservatives in them," said dermatologist and co-founder Dr. Rox Anderson.
In a way, all of these brands ask their customers to adapt their habits, some more drastically than others. Given the fact that all of these brands are still new, it remains to be seen the extent to which consumers are willing to change, when it comes to shopping, pre-planning purchases or playing the role of (amateur) chemist at home.
According to Whitman, the verdict comes down to three key factors. Firstly, there has to be a "real payoff," or "a real, important reason why you're asking me to do this, versus the alternative." In Exponent's case, for example, she said it's the brand's clinical results, which are front and center on its site. Secondly, "it has to be as convenient as possible." Again, in Exponent's case, its received consumer feedback stating that they enjoy the dose control. The user hears an audible click when the powder and the gel converge that people find "oddly satisfying," Whitman said. Finally, the third is related to pricing: "Bonus points if it's priced appropriately, for what you'd expect it to be priced for."
Published June 7, 2022 in Glossy, by Sara Spruch-Feiner